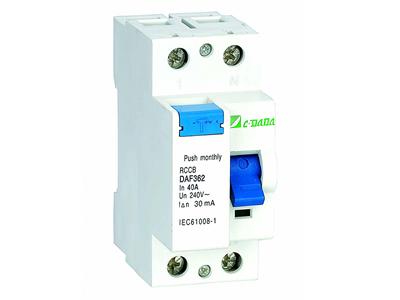 Introduction
The DAF360 electronic residual current circuit breaker has been designed and manufactured in accordance with the latest IEC61008-1 standards and complies with the EN50022 standards for modular switches. They can be used to load standard guide rails with "hat shape" symmetrical structures.
If a ground fault current is detected by the DAF360 residual current circuit breaker, it will compare it to the ground leakage release current value and the circuit breaker will immediately break the circuit if the former is greater than the latter.
Circuit breakers can connect ground systems in order to protect the charged body from indirect contact. It also functions to direct contact charged body additional protection if the rated residual current value is greater than or equal to 30mA. Besides the protection of the direct or indirect contact charged body, the circuit breaker also protects against potential fire hazards in case the wiring insulation is damaged.
Application
The DAF360 residual current circuit breaker is designed to meet GB16916.1, IEC61008 and BS4293 standards. It is used in situations requiring alternating current 50-60Hz, single-phase 240V (220V), three-phase 415V (380V) such as industrial and mining operations, commerce and household. It can be used for infrequent conversion of lines under normal circumstances when functions as a personal electric shock and equipment leakage protection device.
Model
Number of poles
Rated current
Residual current type
Rated frequency
Rated residual current
Rated operating voltage
Insulation voltage
Rated impulse withstand voltage
Rated breaking capacity
Release type
Size
2P
16-63A
AC and A
50-60HZ
10, 30, 100, 300A
230/400V
500V
6KV
6KA
Thermo-magnetic
a
b
c
35mm
90.4mm
69mm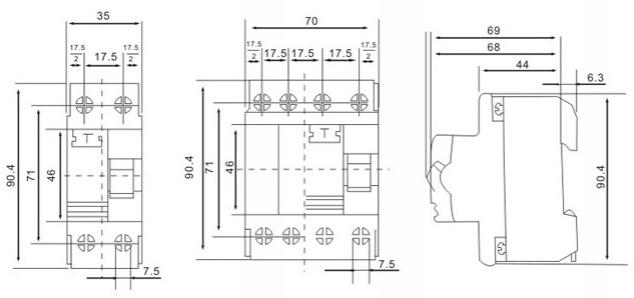 Physical parameters of DAF360electronic residual current breaker
Protection grade: IP40
Flame retardant grade: grade2
Mechanical endurance: 10,000 times
Electrical endurance: 4,000 times
Regular service conditions of DAF360electronic residual current breaker
1. Ambient air temperature: 5℃ -40℃, 24 hours average no more than 35℃;
2. Altitude: no more than 200 meters;
3. Atmospheric conditions: relative humidity of air at the maximum temperature of 40℃ does not exceed 50%, and at the minimum temperature of no more than 25℃,the relative humidity does not exceed 90%.
4. Installation category: category 1, 3
5. Installation method: installed by standard guide rail
6. Installation conditions: There should be no significant shock and vibration when installing, and the external magnetic field of installation site in any direction should not exceed 5 times than the geomagnetic field, then mounts the RCCB vertically, the handle up is the power supply position.
7. Connection mode: use screws to tighten the wiring or use bus bar.
Structure and operating principle
1. Structure -DAF360 residual current circuit breaker contains a zero sequence current transformer, operating device, contact system, arc-control device, insulating shell and so on.
2. Operating principle- residual current circuit breaker is in the closed position when it works normally; the zero sequence current transformer output signal to release when the leakage or electric shock occurs, then cut off the power within 0.1 seconds to achieve power leakage protection.
DADA company manufactures miniature electrical switches such MCB Circuit breakers, RCD circuit breakers, ELCB breakers, RCBO, RCB circuit breakers, molded case circuit breaker, DADA started miniature circuit breaker manufacturing from 2004, already offered million various electrical circuit breakers into global markets for different electrical MCB breaker clients.
Index
electrical switch, RCCB, mini circuit breaker, circuit protector