---
Application
The shunt release trip unit is designed for remote control circuit breakers. It allows for instantaneous opening and is part of instantaneous electrical working systems.
Action characteristics of shunt release trip unit
Electrical accessories
Shunt trip
Range of supply voltage
(0.7-1.1)×Us
Rated control supply voltage Us
Power supply
AC 50Hz
220V
380V
power loss
150VA
150VA
DC
110V
220V
power loss
150W
150W
Wiring diagram of shunt release trip unit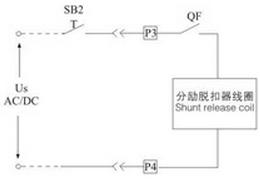 SB2-opening button (user prepared))
P3.P4-Teminal number
Us-control power supply
QF-auto-locking auxiliary contact
Only the dotted line is connected by the user. The rest of the wiring is connected by the factory for the reference of the user.
Apply to DAM1 models
DAM1-125
DAM1-160
DAM1-250
DAN1-400
DAM1-800
DAM1-1600
Shunt release
125/160FT
250/400/FT
800/1600FT
DADA company manufactures miniature electrical switches such MCB Circuit breakers, RCD circuit breakers, ELCB breakers, RCBO, RCB circuit breakers, molded case circuit breaker, DADA started miniature circuit breaker manufacturing from 2004, already offered million various electrical circuit breakers into global markets for different electrical MCB breaker clients.
Index
electrical switch, electronic components, circuit breaker parts